Scroll Down
Scroll Down
Scroll Down
Scroll Down
Interconnection
Taking advantage of the academic freedom that comes with the final year of studies, I ignored issues of property rights, financial considerations and political issues and focused instead on my goal to design the ideal station and infrastructure hub.

At the time of its completion, the existent Václav Rejchl station was one of the largest train stations in then-Czechoslovakia. Today, unfortunately, rail is no longer the dominant form of transport. Recent proposals have not reflected this change and a significant amount of the city's land has been taken over by other means of transportation. My aim was to deliver a compact, intermodal terminal which would accommodate all means of urban and intercity transport in a single complex, allowing the existing building and its heritage to become important and meaningful once again.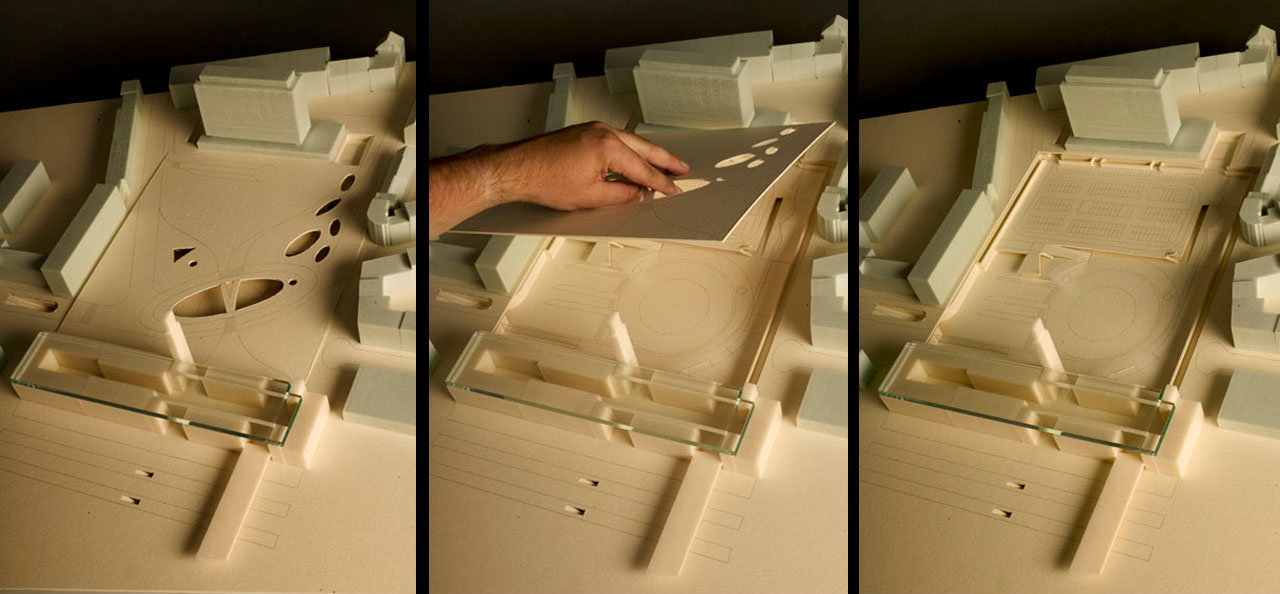 ---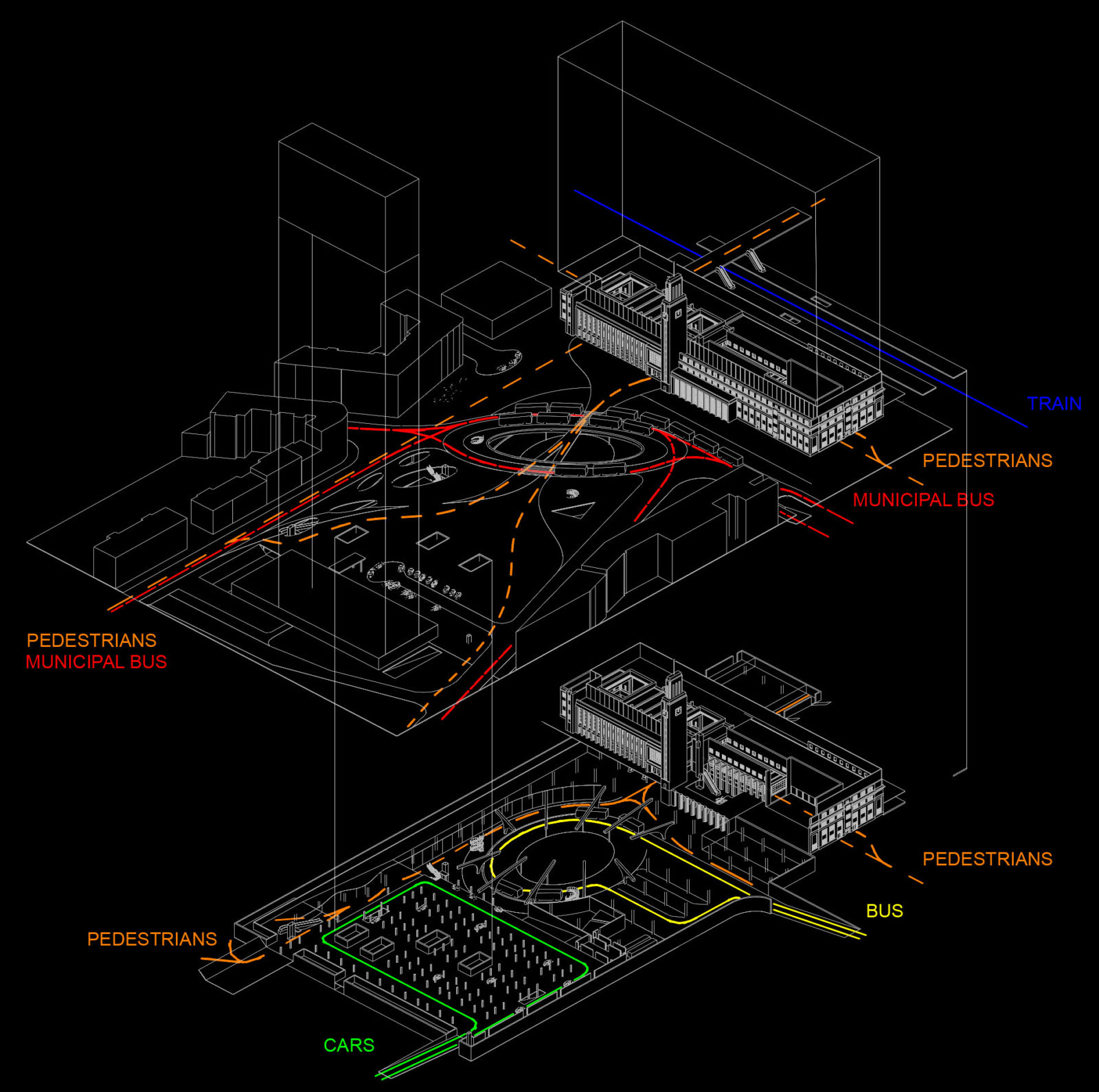 The Opportunity
Interconnections between various modes of transport. The existing station atrium serves as the main entrance to all options.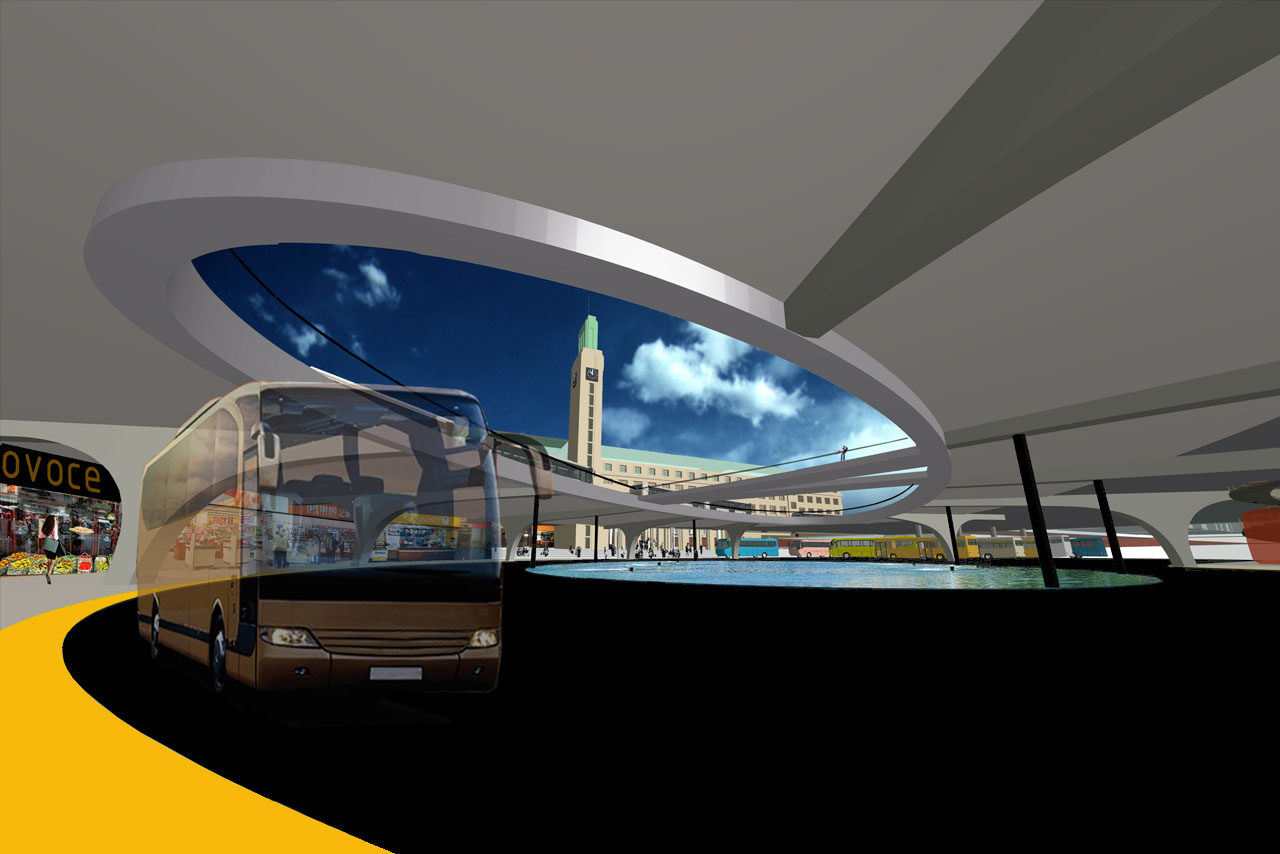 A Dominant Position
The train station defines the west end of the city. The proposal seeks to exploit and strengthen this dominance.
Priorities
Underground infrastructure + urban square development
– Existing Building
The underground spaces are opened to serve as waiting rooms and retail units and to facilitate passenger circulation.
– Long haul bus roundabout
The key design principle is a platform in the shape of a roundabout, which prioritises the use of the three bus stops closest to the existing station building. Additional stops are only used during peak travel hours. Lines and directions alternate, abandoning the traditional model where one stop equals one direction of travel. Trains, buses and municipal transport share an interactive system of departure signage. The efficient traffic flow of passengers is the main priority.
– A two-storey underground parking zone
The pavement on the western side allows for taxi pick-up/drop-off, while the parking structure provides parking for passengers and users of local businesses.
– Underground Retail
Retail zones are located along the pedestrian flows and feature an interface between shop window / platform / vehicular circulation.
Added Benefits
A rooftop structure is added above the existing train station building, along with a pedestrian bridge above the railway network.
These are additional interventions which could improve the current conditions still further. The rooftop opens the building to the public. The existing building becomes a destination. A bridging structure (cafe, bar, etc.) connects a neglected urban district (ZVU) to the rest of the city.
The option presented is more expensive than an ordinary solution. The number of commercially viable units might attract private investors to invest in the transport infrastructure.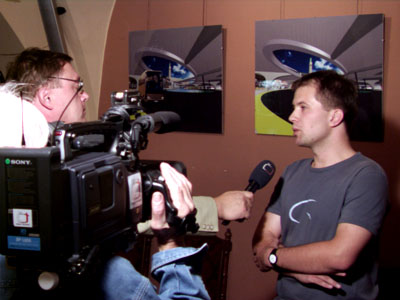 Response
This diploma thesis project attracted a lot of attention in 2005. It received various awards in the Czech Republic (Czech Chamber of Architects, Center for Central European Architecture) and was presented at various exhibitions. Czech Railways investigated the feasibility of the project. Thanks to this diploma thesis, I had the opportunity to get in touch with Norman Foster and work with him on various successful competition proposals.
Diploma Thesis – Prof. Jiří Suchomel Studio, FUA TU Liberec, 20.6.2005