Scroll Down
Scroll Down
Scroll Down
Scroll Down
Interconnection
I took the advantage of last year student's academic freedom. I ignored the land ownership and various previous decisions. My aim was to to design ideal infratructural hub and station.

Existing Václav Rejchl station was one of the most generous train station structures after it's completion. Unfortunately railway transportation partially lost leading position. Recent proposals did not reflect this change. Other means of transport take over further land within the city. My aim was to deliver compact inter modal terminal which accommodates all urban traffic movements in to one complex. Existing building and it's heritage would become important and meaningful once again.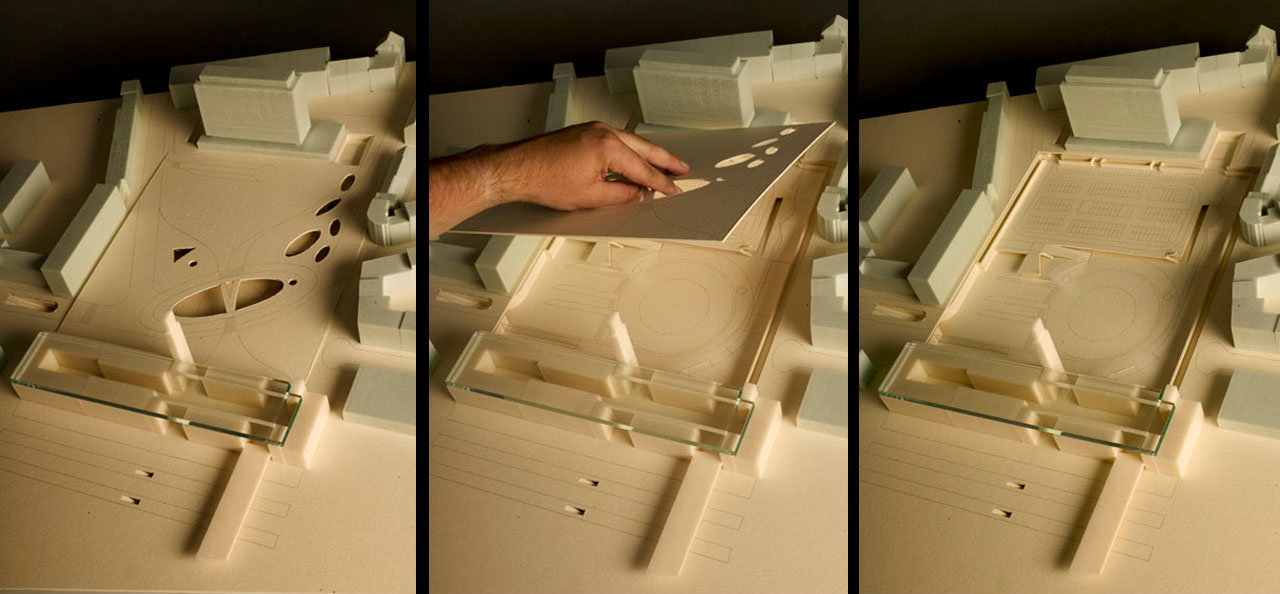 ---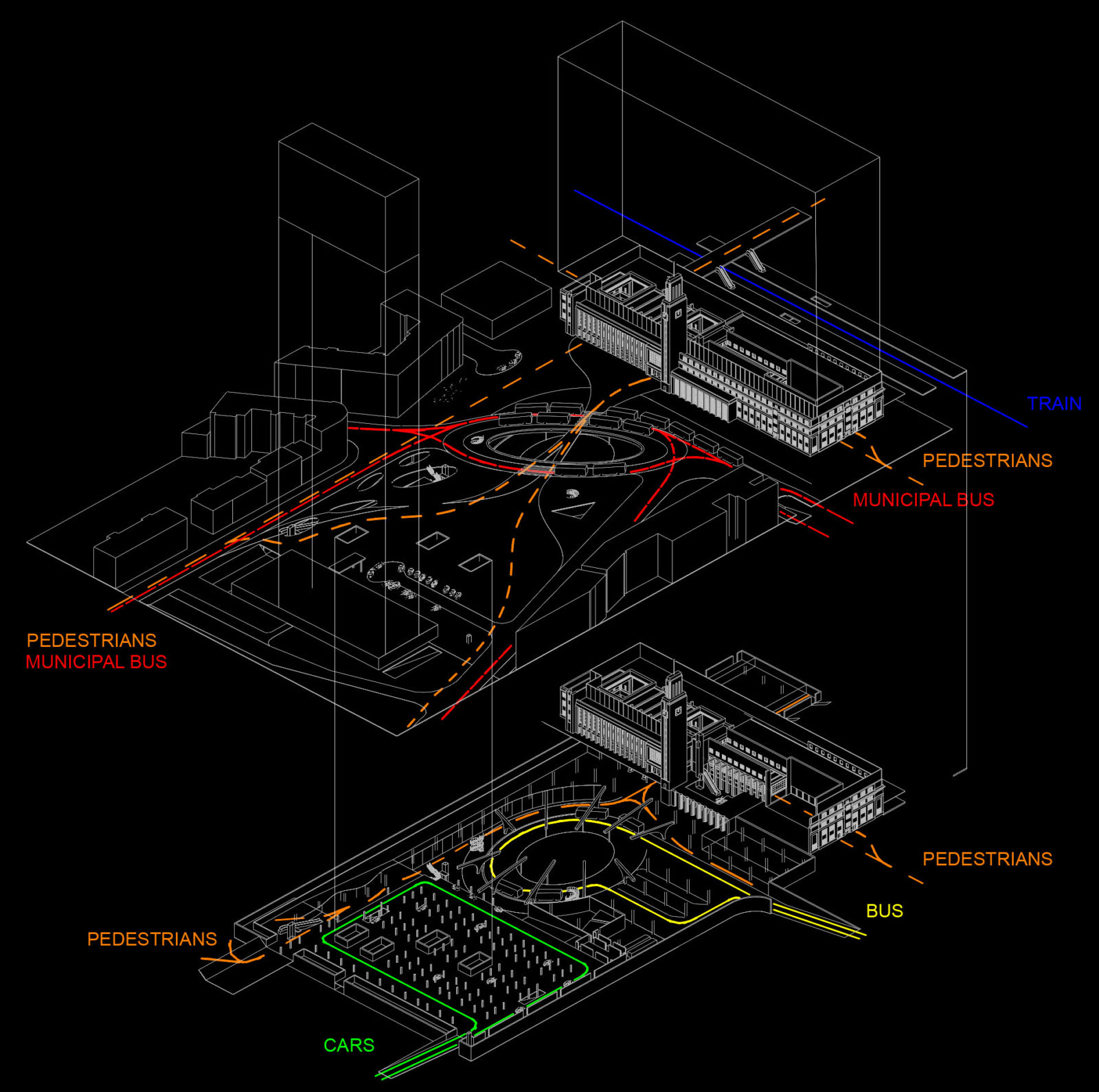 Opportunity
Interconnection in between various means of traffic. Existing station atrium serves as the main entrance to all options.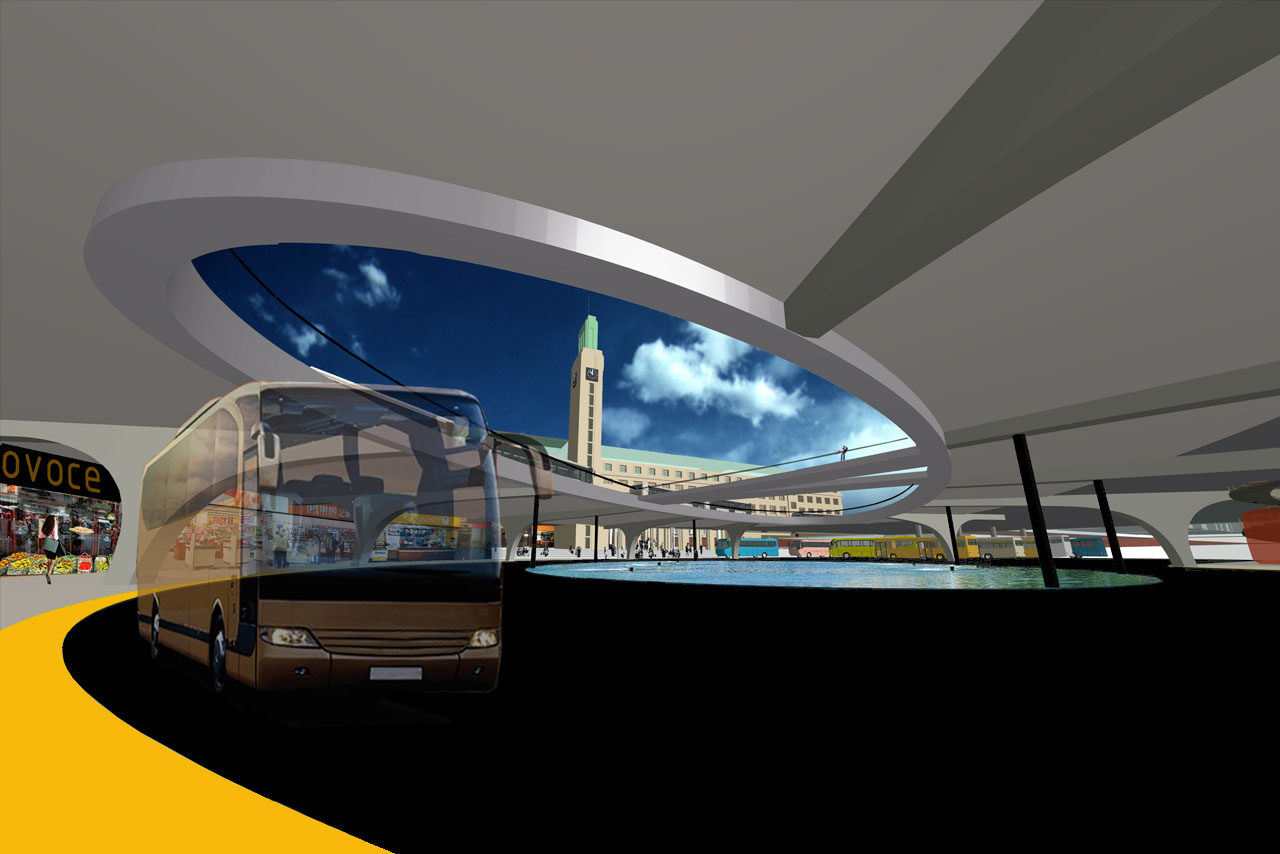 Dominant role
Train station defines the West end of the city. It's destination is further dominant.
Priority
Underground infrastructure + urban square development
– Existing Building
Opens it's underground spaces for waiting rooms, retail & circulation …
– Long journey bus round about
Main principle is the platform edge operating mainly just three bus stops closest to the existing train station building. Further bus stops are used only within the peak hours following bus station logistic navigation system. Traditional bus route dedication to one stop is left behind. Interactive departure signage system is shared in between trains, buses & municipal transport. Main priority is the efficient traffic flow for passengers.
– Two floors underground parking zone
Platform edge allows taxi arrival, parking structure allows parking not only for passengers
– Underground Retail
Retail zones located along the pedestrian flows. Interface in between shop window / platform / vehicular circulation.
Bonus
Roof top structure above the existing train station building, pedestrian bridge above the railway network.
These are additional interventions which might further improve current conditions. Roof top opens to public. Existing building becomes destination. Bridging structure ( Cafe, bar, … ) connects neglected urban district (ZVU) to the city.
Presented option is more expensive than ordinary solution. Amount of commercially viable units might bring private investment opportunity in to the transportation infrastructure.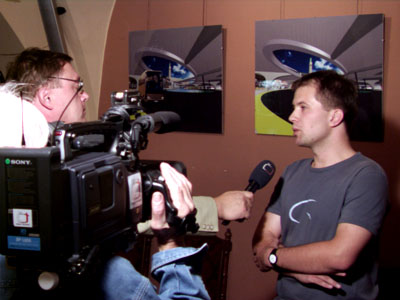 Response
Diploma Thesis project attracted lot of attention in 2005. It got various awards within the Czech Republic. ( Czech Chamber of Architects, Center for Central European Architecture ). Took part at various exhibitions. Czech Railways were investigating feasibility of this project. I got the opportunity to get in touch with Norman Foster and work with him on various successful competition proposals thanks to this Diploma Thesis.
Diploma Thesis – Prof. Jiri Suchomel Studio, FUA TU Liberec, 20.6.2005